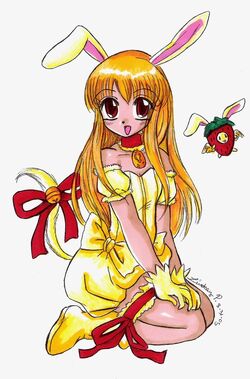 Berry Shirayuki is introduced as the sequel series' main protagonist, the sixth Mew Mew, and, while Zoey is studying abroad, the temporary leader of the Mew Mews. She becomes the first Mew Mew to be infused with the DNA of two endangered species: the Andes Mountain Cat and the Amami Black Rabbit. Like Zoey, she is given a robot companion, Ucha, who gives her guidance and transforms into the staff Berry uses to fight. As the "second strongest" Mew Mew, Berry becomes the primary target of the series antagonists, the Saint Rose Crusaders. Throughout a la Mode, Berry comes to realize that she is in love with her close childhood friend Tasuku, which confuses her until she is able to come to terms with her feelings. Together, they use their warm feelings of love to release the city's citizens from the Saint Rose Crusaders hypnotism and to change the hearts to the Crusaders. At the end of the series, Berry and Tasuku, the "lovebirds" of the café, work side-by-side as the cafe's new door-to-door delivery service and celebrate being in love.
Relationships
Edit
Berry's grandfather
School Friends
Edit
Tasuku Meguro(Also her childhood/boyfriend)
Team Mates
Edit
Elliot Grant
Wesley J. Coolridge III
Supporting characters
Edit
Zoey Hanson (Returned in the Episode 45)
Mark (Returned in the Episode 45)
Community content is available under
CC-BY-SA
unless otherwise noted.